Our staff's commitment to you
Our staff is committed to providing support, compassion, information, and direction as needed to all members of our community, their families, and friends who are dealing with loss and grief.
McNutt Funeral Home - Lufkin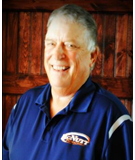 Tom McNutt
General Manager
tom@mcnuttfuneralhome.com
Tom has been in the funeral/cemetery industry for over 40 years. He attended The University of Texas in Austin and graduated from University of Texas-El Paso with a degree in physical education. In addition to owning cemeteries from Corsicana to Port Lavaca, he maintained cemeteries in Texas, Florida, and Alabama. When Tom purchased Conroe Memorial Park in 2006, he decided to open a funeral home and crematory to provide affordable funerals for families. Tom is known for his big heart and compassionate nature. Tom and his faithful companion Teddy, a Welsh Corgi, can been found visiting with families at the office daily.